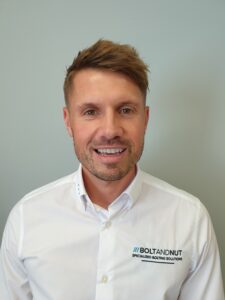 As part of Bolt and Nut's strategic plans, we have employed a Business Development Manager, whose sole focus will be on helping the business add to its ever growing list of approvals and expand into new markets (both geographical and business sector).
Owing to his experience in the Oil & Gas sector, Tom Higgs will not only be driving the strategic push on core products, but will also allow Bolt and Nut the opportunity to offer additional supporting products, such as Pipes, Fittings and Flanges, which is predominantly Tom's background.
Tom says: "I have used Bolt and Nut as a supplier in the past and was always struck by the professional, slick service I received from a great team. To be part of this team now is a big coup for me personally and it is an opportunity I will grasp with both hands. It was a no-brainer to join and I'm so happy to be here. I can see that there are a number of opportunities to add value to the business and I am already working towards doing this."
Welcome to the team Tom!!!!