Quality
Nothing is more important to us than the quality of our products. When supplying customers in quality critical industries, product integrity is of the utmost importance. This has made Bolt and Nut the first choice supplier for many of the world's blue-chip companies.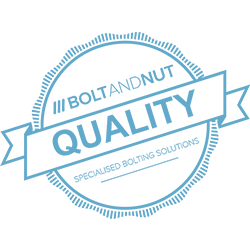 Testing
Bolt and Nut work closely with a number of UKAS approved laboratories, who provide a full range of independent testing services.
Charpy
Chemical Analysis
DPI (Dye Penetrant Inspection)
Elevated Tensile
Hardness
Intergranular Corrosion
Image Dimension Measuring (Keyence)
Micro Etch
MPI (Magnetic Particle Inspection)
PMI (Positive Material Identification)
Proof Load
Stress Rupture
Tensile
UT (Ultrasonic Testing)
Wedge Testing
Additional tests are available on request, please contact us.
ISO 9001:2015 Certificate
ISO 45001:2018 Certificate
Achilles Oil & Gas Europe Certificate
Certification
BS EN 10204 2:2 (Certificate Of Conformity)
BS EN 10204 3:1 (Full Chemical and Mechanical Analysis)
BS EN 10204 3:2 (Fully witnessed by third party inspectors)
Furnace Charts
ISIR (Initial Sample Inspection Report)
ITP (Initial Test Plan)
Original Mill Certificates
Plating Certification
PPAP (Production Part Approval Process) Level 1-3
UKAS approved laboratory reports
Testing
Charpy
Chemical Analysis
DPI (Dye Penetrant Inspection)
Elevated Tensile
Hardness
Intergranular Corrosion
Image Dimension Measuring (Keyence)
Micro Etch
MPI (Magnetic Particle Inspection)
PMI (Positive Material Identification)
Proof Load
Stress Rupture
Tensile
UT (Ultrasonic Testing)
Wedge Testing